It's common practice for companies to provide Total Reward Statements (or Total Compensation Statements) to their employees, often when an offer is made or after a compensation review. The rationale behind showcasing an employee's full compensation in a single statement is to provide a complete view of the organization's investment in the employee. But, is the administrative burden worth the effort? Do employees find value in the information and practice?
Total rewards statements often include the all-in costs the company is paying to hire and retain the employee. For example, total rewards statements can consist of:
The employee's base salary and on-target earnings (i.e., including any commission opportunity)
Healthcare & benefits cost
Retirement benefits
Other company perks
This information may be helpful at the time of hire; however, after a compensation review, employees are likely less concerned about the money they can't see. Other challenges could also arise, including dissatisfaction with their compensation. Or employees may not trust the good intent behind the effort (i.e., They'll think, "I can get these similar healthcare benefits at many other companies."). These challenges, combined with the effort and cost to produce total comp statements, may point to a better approach to demonstrating company investment in their people and the perceived value employees take away.
Instead of providing total comp statements, companies should provide more thoughtful information regarding their pay transparency initiatives and how it directly impacts each employee. These statements should include insights into the company's compensation approach and decisions, and steps taken to ensure employees are being paid fairly (internal fairness + market competitiveness). 
What to include in pay equity communications for employees:
Compensation Philosophy
Career Paths
Compensation Initiatives Timeline
Compensation Philosophy 
While crafting the messaging for your company's compensation philosophy, it's vital to explain the steps the company has taken in its pay strategy using language that's easy to understand (i.e., avoid using technical jargon). Clear messaging from the top down enforces consistency, which will support the organization's pay transparency efforts. 
How to Establish a Compensation Philosophy:
Transparently communicating the organization's process in establishing its compensation philosophy is an essential trust-building exercise that should be supported by empowering managers with talking points to build trust further and facilitate conversation. 
Career Paths
Communicating possible career paths for each employee is another valuable retention initiative. Employees are more likely to commit to a company longer term if they have insight into their professional development opportunities within the organization. 
With each career path progression, the employee also becomes aware of the expectations associated with taking the next step in their career, improving performance, and driving company culture. In addition, having established career paths also equips managers to make informed decisions during job leveling, performance, and compensation reviews. 
Compensation Initiatives Timeline
As part of pay transparency, share with employees the overview of the compensation-related initiatives during the year. Below is an example: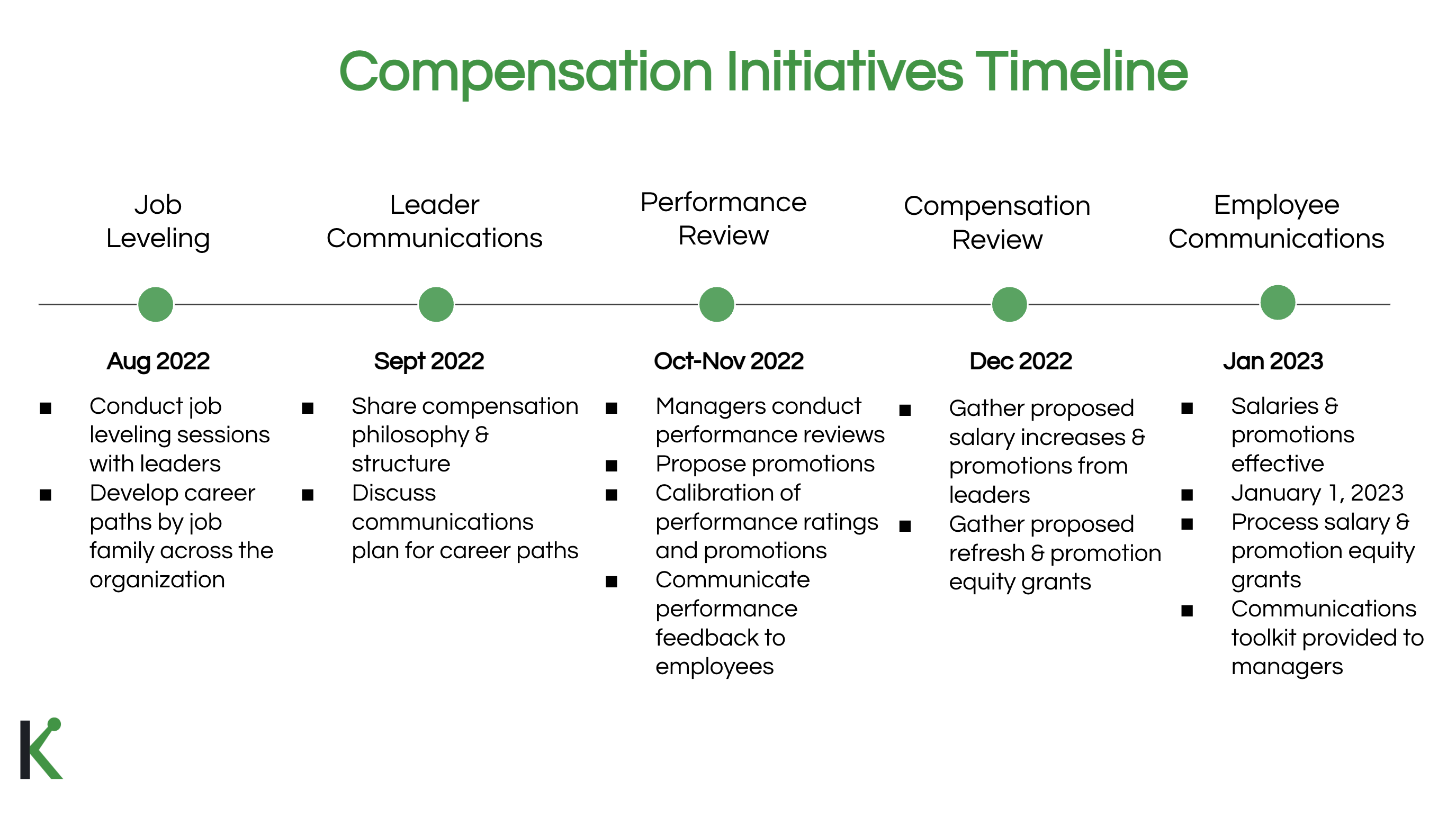 Communicating to employees when performance and compensation reviews are conducted, and showing them there's a process and cadence to it enhances trust. For example, knowing that promotions are calibrated twice a year, increases employees' perceptions that promotions are being processed fairly.
The Outcome
Replacing the typical total rewards statement with clear communication around pay transparency allows employees to receive highly relevant information about the company's investment in them. Highlighting these efforts supports a greater understanding of the organization's value to the employee, ultimately increasing retention. 
About Kamsa
Kamsa is a compensation management tool that helps companies make intelligent pay decisions. We empower organizations to plan and budget salary and equity reviews effectively by providing reliable, global market data that equip leaders to make holistic + informed compensation decisions. Kamsa's consultative approach to software offers a knowledge base for HR and leadership during job leveling, building career paths, and budgeting for compensation reviews.