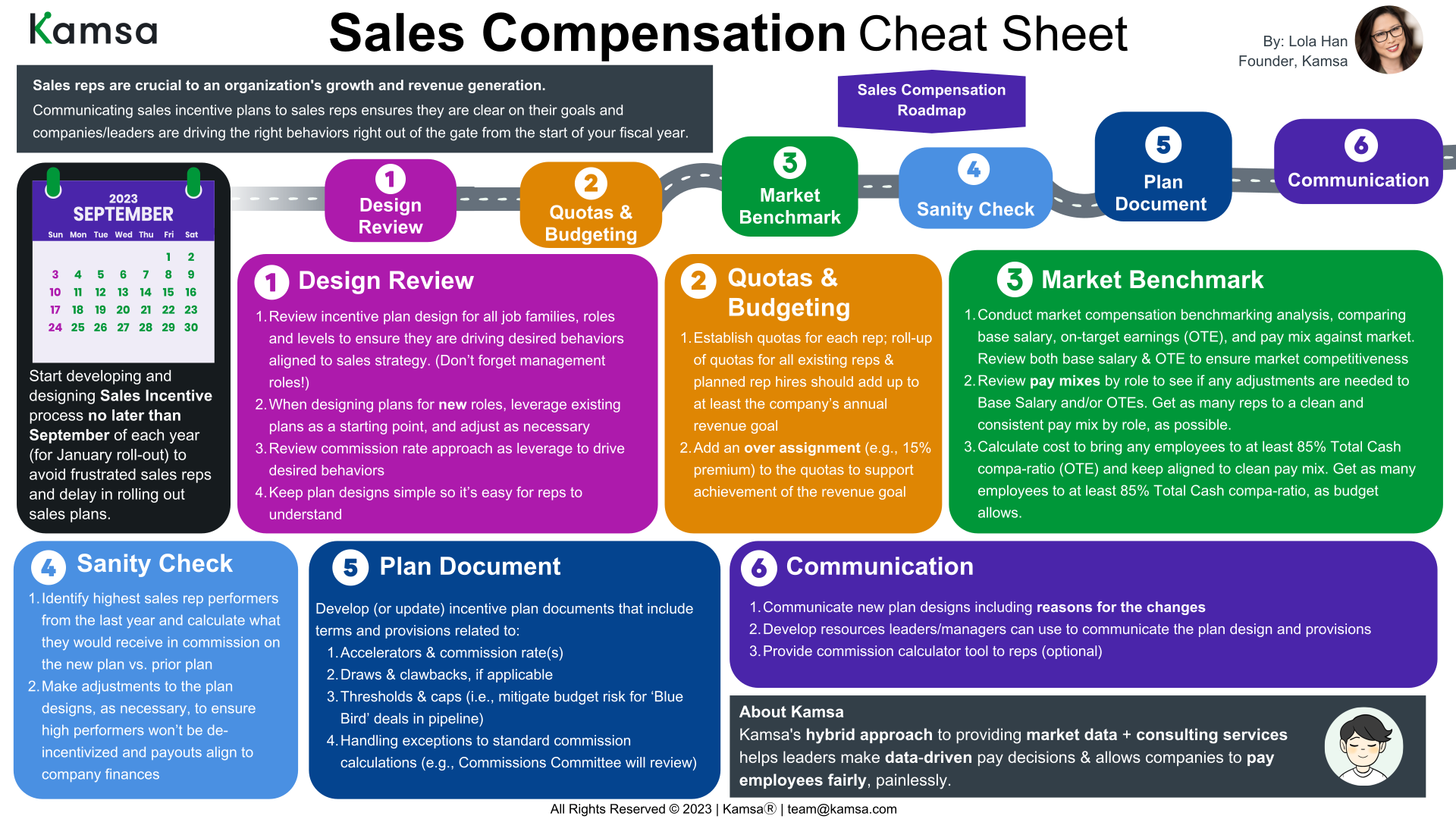 Sales reps are crucial to an organization's growth and revenue generation.
Communicating sales incentive plans to sales reps ensures they are clear on their goals and companies/leaders are driving the right behaviors right out of the gate from the start of your fiscal year.
Start developing and designing Sales Incentive process no later than September of each year (for a January roll-out) to avoid frustrated sales reps and delays in rolling out sales plans.
Sales Compensation Roadmap
Design Review

Review incentive plan design for all job families, roles and levels to ensure they are driving desired behaviors aligned to sales strategy. (Don't forget management roles!)
When designing plans for new roles, leverage existing plans as a starting point, and adjust as necessary
Review commission rate approach as leverage to drive desired behaviors Keep plan designs simple so it's easy for reps to understand

Quotas & Budgeting

Establish quotas for each rep; roll-up of quotas for all existing reps & planned rep hires should add up to at least the company's annual revenue goal
Add an over assignment (e.g., 15% premium) to the quotas to support achievement of the revenue goal

Market Benchmark

Conduct market compensation benchmarking analysis, comparing base salary, on-target earnings (OTE), and pay mix against market. Review both base salary & OTE to ensure market competitiveness
Review pay mixes by role to see if any adjustments are needed to Base Salary and/or OTEs. Get as many reps to a clean and consistent pay mix by role, as possible.
Calculate cost to bring any employees to at least 85% Total Cash compa-ratio (OTE) and keep aligned to clean pay mix. Get as many employees to at least 85% Total Cash compa-ratio, as budget allows.

Sanity Check

Identify highest sales rep performers from the last year and calculate what they would receive in commission on the new plan vs. prior plan
Make adjustments to the plan designs, as necessary, to ensure high performers won't be de-incentivized and payouts align to company finances

Plan Document

Develop (or update) incentive plan documents that include terms and provisions related to:

Accelerators & commission rate(s)
Draws & clawbacks, if applicable
Thresholds & caps (i.e., mitigate budget risk for 'Blue Bird' deals in pipeline)
Handling exceptions to standard commission calculations (e.g., Commissions Committee will review)

Communication

Communicate new plan designs including reasons for the changes
Develop resources leaders/managers can use to communicate the plan design and provisions
Provide commission calculator tool to reps (optional)
About Kamsa
Kamsa's hybrid approach to providing market data + consulting services helps leaders make data-driven pay decisions & allows companies to pay employees fairly, painlessly.